Gousto reviews
Gousto send you all the ingredients in the right proportions to cook delicious meals at home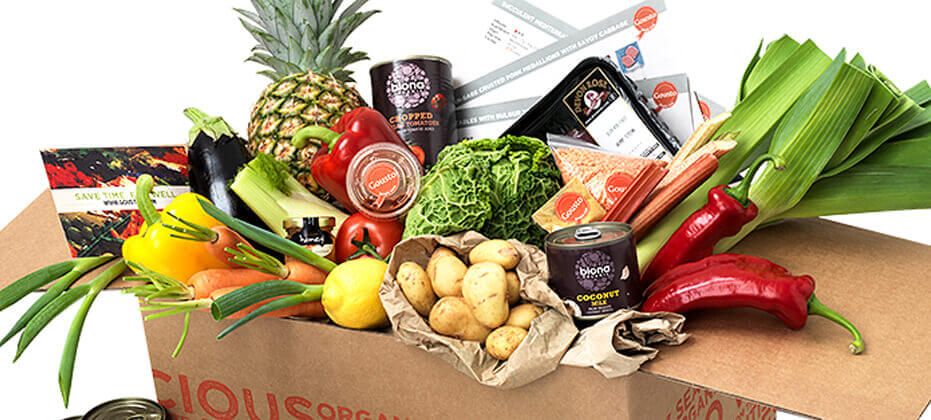 Fresh ingredients with recipes
You know that dish where you need to buy a whopping big bag of stuff just to use small portions of each item for your dinner? It sucks. But its one of the only dishes you know, so when you want to impress, what else is there to do? What's worse is then throwing the unused stuff away, or realising that without that special ingredient, which you forgot to get, the dish just won't be the same. Disaster.
Gousto are trying to combat a few of these problems – by providing you with all the ingredients, in the right proportions, to cook delicious meals at home, and meals that you may otherwise not have bothered cooking.
Setup by two friends who had a passion for cooking, but no time to hunt for ingrediants, the company is now curated by a team of professional chefs and passionate amateurs making sure that the recipes cover all cuisines and styles.
The boxes are focused on couples or the classic 2.3 children family, with a meat and a vegetarian option. To order, log on each week and choose the recipes you want to tackle – there's plenty of new ones all the time – or let Gousto choose your meals for you and they will send you the most popular. Each recipe has been developed by a team of passionate chefs, and then tested to make sure they meet mass approval – so there won't be any turkeys, unless of course, you order turkey. Each recipe gives detailed step-by-step guides, so no missing pages or scrawled notes in books here.
The produce itself is tip top – with a focus on sustainability and organic from a carefully selected network of British suppliers. Meat, for example, comes direct from a farm in Devon and most of the fish is Scottish., and vegetables are mostly seasonal around the classic British harvest.
Its easy to put your account on hold if on holiday or if overstocked, just log on, cancellation is easy too, just be sure to do so before the cut-off time of the delivery, which is always at noon on Sunday before the delivery.
Everything delivered (on Tuesday or Wednesday in London, rest of UK on Friday) and everything in the right portions certainly sounds appealing, no hunting around random shops, no heavy bags, no waste, just decent sustainable organic food. So if you fancy something different tonight than ready meals or one of your usual repertoire, give Gousto a go.
Overall User Rating

Rated 4.87 stars




4.87

/ 5 (

15

Reviewers

)
See Gousto alternatives & other boxes people like.
See other best subscription boxes in Food.
---
15 Reviews of Gousto from Real Customers:
Our subscription box listings feature real customer reviews. Subscribers rate a box based on value, appearance, and other aspects, as well as providing comments and feedback about their experience with customer service. Our subscription box reviews provide a more accurate overview of boxes than from bloggers. We check all reviews are genuine. Want to leave your view? Write your review below.
Verified Review - April 2016
Obsessed with Gousto
By Sian
A little bit obsessed with these Gousto guys. Absolutely gorgeous recipes with the best quality food. The vegetarian recipes are varied and not your usual vegetarian offering. I think it's excellent value for money. The customer service has been extremely professional and friendly. Delivery is perfect. I sometimes lack imagination in cooking but with Gousto I feel I'm bordering on Being a Chef. Feels like I'm eating restaurant food at home.
Verified Review - March 2016
Gousto... a revelation for dinner
By Peachy
I had seen adverts for a rival service but had always been put off by the limited delivery service and options for eating. However after some googling I found Gousto. Working in a school and not in an area I want food hanging around outside all day, it was lovely to see Saturday deliveries. Once I had signed up to try my first box… I was given the option to select what meals I wanted. The pictures of the food were great and there was just the right amount of information to make the right decisions for me.
When the box arrived I was chuffed with how well packed it was.. but also how incredibly fresh everything was. I would not have found such good quality in the super markets at all, in fact the last time I saw this quality of produce was at a farm shop I used to drive our to before having to sell my car.
All the recipes were easy to follow and provided an end result that looked as good as the examples provided by Gousto. … but the best bit…. tasted as good as it looked. In fact I would say the meals are incredibly well balanced and portioned and very tasty and varied.
The price point could be a sticker for some… I worked out the cost of making these meals (both exactly portioned and what it would cost in a super market). If you were able to buy ingredients at exact portion size you find it a lot cheaper.. however.. as with most supermarkets you can't. In actual fact you would spend nearly the same amount and potentially have too much unwanted food that either kicks around in cupboards or just goes bad before it is used. So a massive selling point for me is food waste… I had NONE!!!
It's great having the fun and enjoyment of cooking a fresh meal with the best produce with our the hassle of planning meals. I can't wait to continue getting future boxes. Gousto has reignited my love for cooking from scratch with quick healthy and exciting meals.
If I could give more stars for the rating I would.
Verified Review - March 2016
Gousto is awesome
By Captain_Herder
My parents and I tried Gousto through one of their promotional offers and were hooked straight away. The selection of meals is great, always a lot of variety. It gives you the chance to try something a bit different as well. Can't say we have been disappointed by a recipe once.
The value for money is really good. The produce quality is great; their meat is amazing, I've never seen such plump chicken breasts! Honestly I just can't rave about Gousto enough, they're just really solid in every aspect.
Verified Review - March 2016
Cook with Gousto!
By Minki
I love Gousto. I've never been one for cooking and nearly always it's been eating out or takeaways. I tried Gousto on a half price offer and was pleasantly surprised by the packaging, the choices of recipes, ease of use, the ingredients and finally, the result!
I signed up for a subscription, weekly box of 2 meals. So far, over the last few weeks I have seen my cooking skills improve 100% – so much so, I would now say "yeah, I cook". Every single one has been amazingly tasty and each time I get a "no THAT'S the best one yet" from my partner.
I chose Gousto over other similar packages because you can choose recipes rather than take pot luck. Considering I don't eat meat (only fish and veggie) I've had a hard time choosing from the excellent choice each week.
I get the box delivered to work and because of the clever packaging, the ice packs that surround the fish and refrigerated goods are still intact at about 6pm when I get home to unpack. Really impressive!
The only things I have ever needed to add to the recipes are simple larder things like salt, pepper, oil and sometimes flour – everything else is supplied.
It works out at £6.75 a portion, which, when you consider our normal budget for the week, with eating out and takeaways, I know we are saving money. And there's no wastage of food I've bought – everything is used. The portions are exactly the right amount to feel full, not too much and not too little.
I really don't have ANYTHING negative to say at all – except perhaps some more 'healthy' options for calorie counters might be good. Most things are around 650 – so on the high side if you are counting. But that's the only thing I can think of!
Verified Review - March 2016
My Great Gousto experience
By Laura
Gousto is my new, not so guilty, pleasure. I love that I can choose something new each week, know the calorie content of each meal and they are organic, delicious and easy to make. You can opt in and out, change the number of meals you require and the flexibility suits me perfectly. Highly recommend to anyone wanting to look at portion control, getting back in to cooking and eating organically.
Verified Review - March 2016
Excellent
By Dan
Into our second week of Gousto. Thoroughly enjoyed every meal up to now. Neither me nor my other half have ever enjoyed cooking before. Highly recommended. Excellent value when using a discount code but £42 a week may prove to be a bit steep.
Verified Review - March 2016
Love Gousto
By Sarah
We have had a box every week for the last year and would be lost without them. We live in the middle of Lincolnshire and the food selection is rather limited so this service is a God send! Would recommend this to anyone who loves food.
Verified Review - March 2016
Gousto the Food Gods for Students
By Ryan Kenny
I would say as a student this is great value for money and time as I don't have to go to the shops buying random spices, deliveries were on time and well packaged and the produce came fresh and can be saved for around a week. Definitely recommend
Verified Review - March 2016
Food lovers paradise
By Emmawinelover
We're a household of food lovers so anything pre-prepared would usually fill me with horror. But…Gousto have got it sorted. Food quality and delivery is high, value is good, but not cheaper than say value supermarkets. But in my view you get what you pay for, right? First recipe (Moroccan chicken with lemon and cous cous) was excellent. Not s suggestion of Gousto because everything is included all nicely measured and packaged, but I used up some left over chicken and added a few extra apricots than recommended, but allowed me to add a bit of flair frugality (chicken provided has since been used too) so no waste. Tried second meal, bit too spicy but that's not a criticism you just need to use your brain! Overall 5 stars.
Perfect for: 'treat' meals and entertaining and/or busy people who still love home cooked meals but without faff.
Not perfect for: people eating on a low budget or people that can't decide what they want to eat on a Thursdsy if they're choosing on a Sunday!
Improvements: too much packaging but then the quality is spot on. Our garlic cloves were a bit beyond their best, but that's just being picky.
Verified Review - December 2015
Creative and Tasty
By Derek
We are massive fans of Gousto. The variety of choices each week means that you can easily try new flavours and ingredients rather than the "same old, same old". Their service has been excellent and the convenience of pausing the delivery for a week and being able to pick it back up easily is a great feature. The quality of what is delivered is excellent and we have never been disappointed with what is sent. The simple instructions mean that even on a rushed weeknight you can have a high quality, tasty meal without needing to give it much thought. Bravo!
Verified Review - December 2015
Go crazy for Gousto!
By Oliver
Absolutely fantastic service! Really got me back into cooking and introduces me to interesting new recipes every week. Can;t say enough good things about it.
Verified Review - December 2015
Simply Extraordinary!
By Gareth
All I can say about Gousto is AMAZING! it's is nice knowing that the exact ingredients are at home and so easy to cook. To top it off, there is no waste! I have tried hello fresh, their competitor but I'm not as impressed as I am with Gousto! Good job guys. Ps. Loving the free gifts in every box!
Verified Review - October 2015
Gousto is Great!
By Paula
I tried Gousto through a promotional offer and have been converted. My partner and I enjoyed preparing the dishes together, and the food was great, in particular the lamb burger. I have not yet signed up to a full subscription but every intention of ordering from Gousto again in the near future.
Highly recommended.
Verified Review - October 2015
Gousto is great
By Paula
I came across Gousto through a Groupon offer. I had been considering using a service like this so thought I would give it a go, and I am so glad I did. My partner and I have worked together in preparing the recipes, knowing there would be good food at the end of it and there was! I will be ordering again in the near future and would really recommend Gousto to anyone who wants to try a different way of shopping for their meals.
Thank you!
Verified Review - October 2015
Yummy!
By Jasmine
We're currently two thirds of the way through our first Gusto box and we love it. Me and my husband chose the 'classic kedgeree, the 'prawn linguine' and 'chicken tarragon'. So far my husband (who loves a challenge in the kitchen) has cooked the first two and I have thoroughly enjoyed eating them. The step by step guides are very easy to follow and the flavour of the dishes are amazing.
We originally chose Gusto to encourage us to try new recipes and move away from our comfort zone. The website is really easy to use and even though the food was delivered to my husband's work place in the morning the packaging ensured it was still fresh by the time he got home a fair few hours later.
Furthermore the prep/cooking times are varied so even on busier evenings you have the time to enjoy the quick dishes.
We're both really looking forward to the chicken tarragon tomorrow and have chosen 3 dishes for next week.
Thanks Gusto.
---
Gousto Voucher Codes & Special Offers
50% Off your 1st Gousto Box
Voucher code: SAVE50
---
---
Latest Facebook Updates from Gousto
---
Latest Tweets from Gousto
See their latest Tweets and see how quick and responsive they are at customer service and sorting issues out with customers.
Twitter has returned errors:
"Sorry, that page does not exist. [error code: 34]"
More information on errors that have codes here.
---
Something wrong with this listing? Update this box details

WANT A FREE SUBSCRIPTION BOX?
JOIN OUR MAILING LIST & GET EXCLUSIVE OFFERS EMAILED TO YOU EVERY MONTH