Bloom and Wild reviews
Bloom & Wild is using technology to re-imagine flowers. The ambition is to create the best possible experience of buying and receiving flowers and in doing so to become the UKs most loved flower brand. The UK and global flower gifting markets are huge, and Bloom & Wild thinks that they would be much bigger with a better mobile and online experience.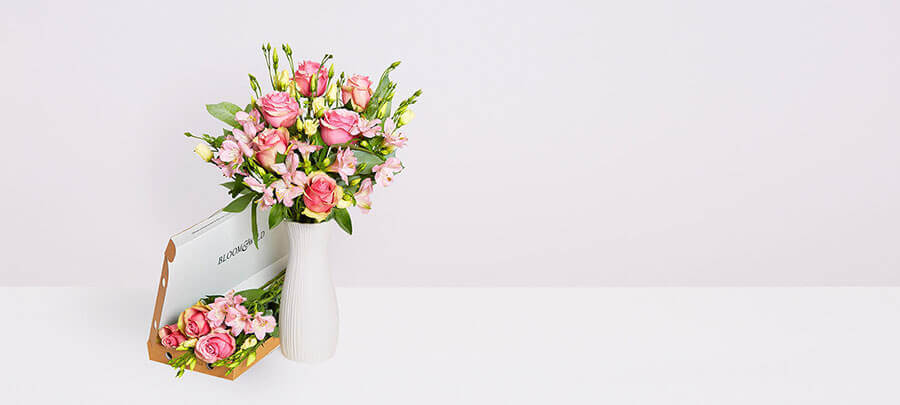 Fresh flowers delivered to you
Delight someone special with the gift of fresh flowers, posted straight through their letterbox the next day. Bloom and Wild make it easy to order – through their website or app, which means fresh flowers are never more than a tap and swipe away.
Bloom & Wild is using technology to re-imagine flowers. The ambition is to create the best possible experience of buying and receiving flowers and in doing so to become the UK's most loved flower brand.
The UK and global flower gifting markets are huge, and Bloom & Wild thinks that they would be much bigger with a better mobile and online experience.
Overall User Rating

Rated 4.53 stars




4.53

/ 5 (

15

Reviewers

)
See Bloom and Wild alternatives & other boxes people like.
See other best subscription boxes in Gifts, Home.
---
15 Reviews of Bloom and Wild from Real Customers:
Our subscription box listings feature real customer reviews. Subscribers rate a box based on value, appearance, and other aspects, as well as providing comments and feedback about their experience with customer service. Our subscription box reviews provide a more accurate overview of boxes than from bloggers. We check all reviews are genuine. Want to leave your view? Write your review below.
Verified Review - April 2021
Birthday Flowers
By Jennifer
I had a lovely delivery today of beautiful flowers for my birthday.
Expertly packed and freshly delivered by a very pleasant lady.
I could not be more delighted and will look to using this supplier myself.
Verified Review - November 2017
Awful!!!! Would never use this company!
By Debbi
Awful! Flowers were squashed. Those in protective packaging fell apart when it was taken off. Some flowers drooped when placed in case vase and didn't recover. Felt awful that my dear friend had spent so much money on them. Only plus point was they smelled nice. Would never order flowers from here.
Verified Review - June 2017
Subscription flowers
By Nicol
I took out a monthly subscription and was advised my flowers would vary every month. They arrived on time and were well wrapped/presented however the flowers I received were the same type each month and the only thing that varied was colour in light of this I emailed to cancel my subscription as it was no longer a nice surprise getting the same thing every month. My subscription was cancelled at my request and I was asked how my experience had been. I replied to express my disappointment at getting the same flowers each month I never got a response to this so much for valuing customers wish I hadn't given them my money.
Verified Review - February 2016
Bloom and Wild are Great!
By Stephanie
My flowers arrive luxuriously packaged and each flower was protected with cushioning. They were fastened with a bow and I also got some vouchers to use. Lovely service and lovely flowers.
Verified Review - February 2016
Absolutely fantastic!
By Lozza2285
A totally 5* service. I've never sent postal flowers before but after hearing review I decided to send some to someone who's having a tough time. Knowing no one would need to be home for delivery meant this was a great option. I ordered them on the Friday morning, by lunchtime I had moved the delivery date to the Saturday instead of the Tuesday and sure enough they arrived beautifully boxed and wrapped with celo and a bow and in perfect condition less than 24hrs later. I wouldn't hesitate to recommend and I will definitely be using them many more times in the future.
Verified Review - January 2016
Wonderful prize of flowers
By Tammy hennessy
When I arrived home and my bloom and wild box was in my porch I couldn't have been more excited, upon opening the box I wasn't disappointed with what I found all
The beautiful flowers wrapped individually such a wonder win. Can't wait too share with my friends
Verified Review - January 2016
Beautiful flowers!
By Emily Brown
Was recommended Bloom and Wild by my mum who regularly orders for friends who live far away! Ordered a beautiful bunch for my good friend and a bunch for my mother-in-law and both did not disappoint! As well as that I think the flowers are grown in Spalding which is what I consider local (live in Peterborough). Would definitely recommend 🙂
Verified Review - January 2016
Delighted!
By Dave
I have had a couple of the selection of flowers now from Bloom and Wild and have been very pleased with them. Well packaged, a good selection and the flowers have lasted well. A very pleased wife to date, I think she's expecting them on a regular basis now!
Verified Review - January 2016
Bloom & Smile
By Keri
I ordered some for my sister in law to thank her for christmas day and it was my first time using Bloom & Wild. I then got a voucher code so used it to treat myself and check the quality etc. I was very pleased with delivery, packaging etc and was sent a small box of truffles for free. Now one week on the truffles are gone but the flowers look even better and are in full Bloom! Will use again for sure.
Verified Review - January 2016
Great service & lovely flowers
By StephStutt
I have been subscribing to bloom & wild for about a year now and receive the flowers fortnightly. I think it's a brilliant idea & it means that I always have flowers in the house as they tend to last quite well & the bunches are sometimes generous enough for 2 cases. It's also great that the box fits through the letterbox. My only little grumble would be that the quality of the flowers in the bunch isn't always consistent and some weeks there is a lot of foliage.
Verified Review - January 2016
The Best Flowers by Post
By Angi
I've used Bloom & Wild for some time, ever since a friend recommended their Letterbox range. Seriously? I wondered what sort of bouquet could possibly be posted through a letterbox, but she was adamant that the service was great, so next time I wanted to send flowers to my daughter I tried it out. The flowers were beautiful and so I sent some to my other daughter. And to my sister. And I've received a couple of B&W Letterbox bouquets myself and been delighted with both the selection and the condition of the flowers.
In October I sent my elder daughter a three-bunch bundle – a Letterbox bouquet a month for three months. The final selection was delivered in December and unfortunately got caught in the Christmas post. I let B&W know that the flowers were not in their usual excellent condition, making it clear that I recognised that it wasn't their fault, simply a misfortune of rough handling at a busy time of years for deliveries. Their response was immediate and the best customer service I could have wished for.
I love the range of flowers B&W offer. I shall certainly be using them again and am happy to recommend them unreservedly. Beautiful bouquets backed up by excellent customer service.
Verified Review - December 2015
Great idea, well executed!
By Rebecca
I love Bloom&Wild! Their service is exceptional, and I really enjoy that they do the 3 month flower subscriptions as a gift. I think that idea's great, and love that they vary their offerings of flowers to what's seasonal. The way they're delivered as letterbox flowers also means you know they're going to arrive and be a surprise, without worrying if the recipient has to be in at the exact moment they're delivered – would wholeheartedly recommend!
Verified Review - December 2015
Beautiful blooms
By Alice
Ordered these as a birthday present about two weeks in advance, and they were delivered on the correct day which is always a good start 🙂 They arrived safely and bloomed a couple of days later. Regular photographic updates from the recipient(!) are showing that one week on they're looking just as fresh and beautiful, and she loves them. I would highly recommend Bloom and Wild – stress free.
Verified Review - November 2015
Desk delight!
By Elise Hamer
Fantastic idea, and the bunch has truly brightened up my desk! Thank you Bloom and Wild.
Verified Review - November 2015
Really impressed!
By Paula
Had a delivery from bloom and wild's letterbox flowers range by a friend. Have to say I have been really impressed by every aspect. The delivery in a flat box for ease of delivery, the flowers individually wrapped, instructions on how to keep them and a link advising on how to arrange them (if required) and advice on how to keep them longer. The flowers look amazing, really lovely. I have had them for over a week now and they still look as good. Would and have fully recommended their service. Awesome!!
---
Bloom and Wild Voucher Codes & Special Offers
There are no exclusive discounts right now
But you can STILL get the best introductory deal from Bloom and Wild with our unique link.
---
---
Latest Facebook Updates from Bloom and Wild
---
Latest Tweets from Bloom and Wild
See their latest Tweets and see how quick and responsive they are at customer service and sorting issues out with customers.
---
Something wrong with this listing? Update this box details

WANT A FREE SUBSCRIPTION BOX?
JOIN OUR MAILING LIST & GET EXCLUSIVE OFFERS EMAILED TO YOU EVERY MONTH