Smuggler's Bounty reviews
A new box from Star Wars.com and Funko – Smuggler's Bounty is the only official Star Wars subscription box in the galaxy! Featuring 100% exclusive collectibles, apparel and accessories from the Star Wars universe, the debut box – entitled Star Wars: The Force Awakens – will ship this November across the US and Canada. For just […]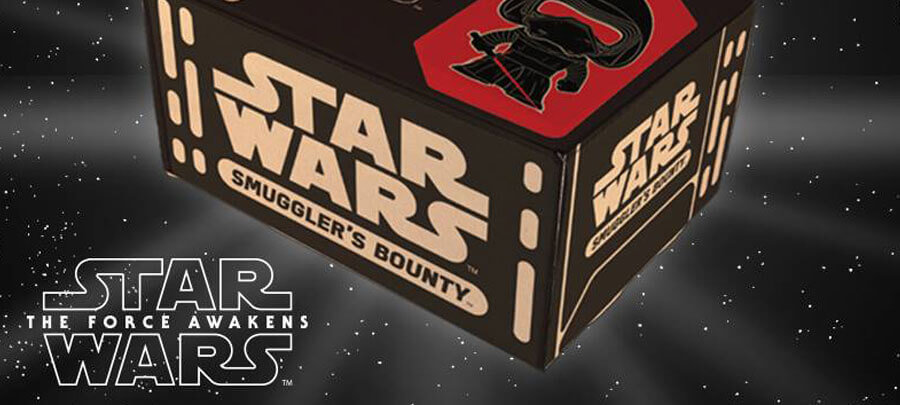 Official Star Wars Subscription Box
A new box from Star Wars.com and Funko – Smuggler's Bounty is the only official Star Wars subscription box in the galaxy! Featuring 100% exclusive collectibles, apparel and accessories from the Star Wars universe, the debut box – entitled Star Wars: The Force Awakens – will ship this November across the US and Canada.
For just $25 every other month, members will receive a box full of exclusive Star Wars-themed Funko items valued at over $50. Each box will focus on a different part of the Star Wars universe and include memorabilia exclusive to the program.
The November box (shipping between the 20th and 28th of the month) will contain two exclusive Pop! vinyl bobbleheads from the upcoming film Star Wars: The Force Awakens, as well as a host of other surprises perfect for any Star Wars fan. Boxes will then ship every two months, and there are two member levels available – a monthly plan (Pirate), and an annual plan (Boss) featuring a mystery reward upon completing one year in the program.
To qualify for the Boss Program you need to have subscribed to the first box and signed up for a 12-month subscription. Bosses will receive a collectible free gift as a reward for their subscription status on or around their first anniversary, and will receive another collectible free gift upon every future anniversary so long as their subscription remains active without a lapse in subscription boxes received.
Make sure your Force Awakens every other month by signing up to Smugglers Bounty!
Overall User Rating

Rated 2.19 stars




2.19

/ 5 (

16

Reviewers

)
See Smuggler's Bounty alternatives & other boxes people like.
See other best subscription boxes in Nerd.
---
16 Reviews of Smuggler's Bounty from Real Customers:
Our subscription box listings feature real customer reviews. Subscribers rate a box based on value, appearance, and other aspects, as well as providing comments and feedback about their experience with customer service. Our subscription box reviews provide a more accurate overview of boxes than from bloggers. We check all reviews are genuine. Want to leave your view? Write your review below.
Verified Review - May 2017
F'ing RIPOFF
By Tuna
Credit card charged 14 days ago and order is still listed as being prepared. TWO WEEKS since being charged and it hasn't EVEN SHIPPED YET!!!!!! I could have hand made the thing by myself and hand delivered to anywhere in the country by now and they haven't even shipped it yet. PATHETIC RIPOFF!!!!
Verified Review - January 2017
Good
By Ezra
I enjoyed this box, it had some great content but it left me wanting more! Also… its not exactly 25 dollars when you incorporate shipping costs…
Verified Review - January 2017
Ridiculous customer service
By James R.
I'm not an idiot; I do read things before signing up, but somehow I missed that the Han Solo w/ Tauntaun wasn't going to ship until mid-January 2017, despite the fact that they advertised it back in NOVEMBER of 2016. Fine, maybe that's on me.
But when you email them 2 weeks before shipping saying "Hey, I moved, how do I update my shipping address because there's literally nowhere to do so on the website?" and have to wait FIVE DAYS for a reply, which then says "Sorry, you're past the deadline, can't change your address, but we can help replace it if returned as undeliverable."
Either A, they don't care about me at all and are too lazy to update an address field, or B, they're too stupid to use a system that allows for reasonable changes. Either way, cancelling my subscription, do not recommend, will inform all my friends not to use these inept loot crate wannabes.
Verified Review - July 2016
Not great, don't take a chance
By D.Scott
TERRIBLE CUSTOMER SERVICE, you basically are flipping a coin if you get a damaged pop flip it and try again, unfortunately its 35 dollars a flip, good luck everyone, I guess eBay is a safer and CHEAPER option, who would of thought.
Verified Review - June 2016
Worth it to you?
By Boddhi
A Star Wars themed loot box; a must have right? Not so fast. The first question you must ask yourself is how much do I like pop vinyl? Every crate is dedicated to these little toys. Entertaining, but do I really have a use for these? The t shirts are okay… but what kind of shirt could I get for $25? Wally World has decent Star Wars shirts for less than $10. Every box also comes with a pin and patch. Is the box worth $25? Probably. The real question is if it's worth that to you.
Verified Review - June 2016
Terrible packaging & shipping & customer service
By Kyle
They send the boxes through the USPS and will not replace damaged packages at all. They wouldn't have to if they just used a single layer of bubble wrap but according to them the packaging is meant to protect the pops but not the pop boxes. Also if you buy multiples of the older boxes they will have the exact same t-shirt in every box. When you contact customer service they reply with a message that might as well tell you to go f*** yourself. I cancelled all subs and will now pay extra and go through eBay for any of the pops I want to guarantee the boxes condition.
Verified Review - May 2016
Do not get caught up in the hype
By MATT
Do not get caught up in the hype. I just received my May 2016 Smuggler's Bounty and both of my POP's are damaged. The entire box took an extra 4 days for me to get and looks like it was tossed around and banged up before it ever reached me.
I thought that I would be getting mint condition items but all I got was a typo on the cheaply made tee shirt and two POP's that are so badly damaged I cannot display them. I also can't sell them, and the real thing that is NOT being mentioned is the HORRIBLE customer service if you even try and communicate with the company who sells these boxes.
They don't respond or they will cut and paste the same exact information on the emails when you do try and get answers. Overall this was a complete waste of time and money. I would highly recommend you NOT spend the nearly $32 when you can buy these POP's a few months after the boxes come out for about the same price as the box costs.
Verified Review - February 2016
Double double check everything.
By Rawn
First box arrived no problem. I was happy with it, but the shirt was kind of lame for an adult, so I decided to change the shirt size on box #2 and give it to my son. Time for box #2 to ship and they notify me that the credit card had been denied. No surprise there since I was just issued a new chip card days after the first order. I go online to my account, change the shirt size first (This is an important detail) and then go add the new credit card number, in that order. Later when I check the tracking number I see that they are shipping me an XXXL instead of a small. No problem right? It hasn't shipped yet, plenty of time to change it, WRONG. They have the worst customer service you will ever experience. 1 full week before the package shipped and they refused to do anything at all about their error. They would not change the shirt size, cancel the order or listen to any kind of logical reasoning. I refused the order when I received it and sent it back. Now they have my box and my money and are refusing to give refund or credit. Now its between them and my credit card company to settle this. We'll see if I get the short end of this. I can't believe Disney would allow a company to sell product using their brand and treat customers as poorly as they do.
Verified Review - January 2016
Cool Box, hoping they keep up the good work.
By Dave (the other one)
I pre-ordered the year subscription and I am happy I did. Customer service so far have no complaints. To date, two boxes have arrived with no damaged items.
Contents:
– First box, the two bobble heads (kept the black Tie Pilot and gave my office worker's son the Capt. Phasma Chrome… He was – stoked.
– Patch and Pin went to my patch and pin collection….don't know what I am going to do with the Lanyard. and Wife took the shirt… Good quality shirt too…
Second box, (I am letting office worker son get first choice) but I am hoping he takes the wookie bobble head as I want to relive my youth and eat cereal out of the C3PO mug (lol). Shirt (which I know he won't take) is going to get swiped by my wife again…patch and pin to the patch and pin collection…
I actually like getting the box, and being informed it's on the way… I don't get a bunch of good surprises, and as long as they don't send a snake or something that goes bang, I am okay.
Value: okay let's face it, I don't know if the box contains $50.00 worth of stuff. I kinda don't care (No, I am not super rich, nor am I super spendthrift) i figure that I spend about that much when I take my wife out to dinner, or the two of us for a movie is about 30 bucks, so okay, they are toys, and okay, I have a place for them (my office worker's kid…who thinks I rock because I can discuss the Star Wars with
Verified Review - January 2016
CRAP
By Toby
They WILL NOT replace damaged packaging on the Pop! toys… I will not be renewing…..
Verified Review - December 2015
Horrible customer service underwhelmed...
By Scott
I had to pay extra to get it shipped back to me because they will not alliw you to change the address before they ship.The shirt was lame,the Funko Pops! I could have bought at Game Stop.They refuse ti exchange anything damaged on their end.The box itself is alao not packaged so the box can be esily stolen if they leave it on your porch.Nerd Block is WAAAAY better merch and customer service!
Verified Review - December 2015
Do expect anything from Customer Service for damaged items...
By Glenn
I received my box and upon opening it, I discovered several large, ugly scratches in the chrome plating on Captain Phasma. I contacted customer service and was basically told "Oh well, so sorry. " Horrible customer service policies allow them to send any junk they want regardless of condition and stick the customer with it.
Verified Review - December 2015
Horrible customer service, not the same as C. Corps!
By Chris
Funko is NOT replacing damaged boxes anymore! Make sure you are aware of this before ordering, as things have changed since Collector Corps. If you are a collector and like boxes that are properly cared for, don't order from Funko! Check their policy, or I will send you my most recent email from Funko…. They are trying to make more money at the cost of the customer…. My first box was not only damaged but one of the characters had paint all over it (not a color used on that particular POP character). Fingerprints and splattered paint all over, and Funko sends me an email saying read our new policy, which basically says they can decide they don't care to send a replacement at ANY POINT IN TIME! It's not based on actual conditions, but says at "THEIR DISCRETION."
Verified Review - December 2015
Worst customer service ever!
By Lucy
I have bought different box services before and they are great except this one. I recieved a broken funko item and the company refuses to respond to my emails. I went back to see if I could find another way to contact and they state in their website they can change the box at any time without warning you and many other warnings about them not being liable for anything. It seems like they really just want to take your money and dont care about the condition of the items or your experience. The toy was packaged broken and they refuse to help. Or even acknowledge my issue.
Verified Review - November 2015
Definitely the box you're looking for
By Just Joe
I'm a sucker for these boxes, so it'll rarely get a poor review from me. I'm just being honest, I get butterflies in my stomach when I get the shipping receipt in my email. Shipping was no problem for this box, it was recieved right on time.
This first box was amazing, the items inside were well worth the $25. The shirt is cute having the pop Capt. Phasma image in front. The girlfriend snatched it right away. The feel is nice and the printing on the shirt looked very durable.
Chome Capt Phasma pop made me drool a bit. It's just soooooo shiny. Now I can give away the normal one I bought on force friday. The 2nd pop in the box was a tie fighter pilot. There were two variations of it that one could receive, all black and helmet with red
striped pilot. I received red stripes, I guess I lucked out because it's the rarer (?) one.
The patch and the pin I never know what to do with so I'm going to collect the pins and possibly frame them. Rylo Ken was on the pin, which looked really nice. Red stripes was the patch, which I'll be lining my cubical walls with the's patches (I also collect the marvel boxes). The lanyard was a nice add, though personally I have nothing to use it for so it'll be in a drawer somewhere.
I'm in this for the long haul, so let's see if they continue the amazingness.
Verified Review - November 2015
@OriginalFunko Review for Hikaro
By Hannah
Looks like a fabulous gift for anyone! Nice size, easy to display, great design and a range of diffrent ideas. Brilliant idea really because they can become a Hobbie for someone who is intrested in collecting! Especially Disney, Star Wars and so on!
Certainly a most wanted gift this christmas for most family homes be that children or adults!
Certainly recommend purchasing from @ OriginalFunko wonderful company, they have some great reviews and wonderful products with great feedback!
---
Smuggler's Bounty Voucher Codes & Special Offers
There are no exclusive discounts right now
But you can STILL get the best introductory deal from Smuggler's Bounty with our unique link.
---
---
Latest Facebook Updates from Smuggler's Bounty
---
Latest Tweets from Smuggler's Bounty
See their latest Tweets and see how quick and responsive they are at customer service and sorting issues out with customers.
---
Something wrong with this listing? Update this box details
WANT A FREE SUBSCRIPTION BOX?
JOIN OUR MAILING LIST & GET EXCLUSIVE OFFERS EMAILED TO YOU EVERY MONTH