PawPost reviews
Pawpost monthly boxes offer a range of premium, natural and environmentally friendly toys for pets. Some are for interacting with your dog or cat. Some are for sleepy time snuggles. Some are for hiding, fetching, bouncing, chasing or chewing. Regardless of what kind of toy you receive, you can be confident that they have sourced […]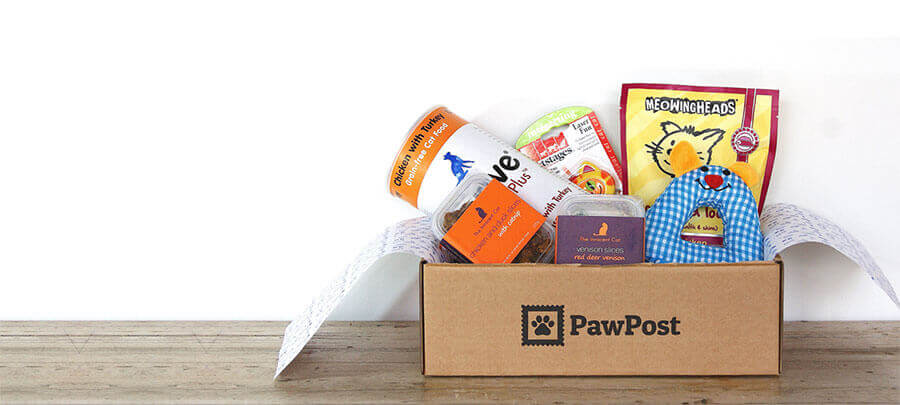 Dog and cat goodies
Pawpost monthly boxes offer a range of premium, natural and environmentally friendly toys for pets. Some are for interacting with your dog or cat. Some are for sleepy time snuggles. Some are for hiding, fetching, bouncing, chasing or chewing. Regardless of what kind of toy you receive, you can be confident that they have sourced only the best, safest, recycled, and eco-sustainable (where possible) toys. Pawpost try to mix and match between adorable, snuggly comfort toys and more durable, hard wearing ones.
Although most pets have a favourite food, or a vet advised meal plan, studies suggest that feeding pets the same food day in and day out is not healthy or enjoyable, and can actually lead to food intolerances and nutrient deficiencies. This means occasionally, instead of only treats, Pawpost may also include all natural, grain free wet or dry food to help spice up your pets diet and add a bit of variety to meal times. All the food they feature is pure and natural, made from ingredients that you can trust and feel good about giving to your four-legged love.
Whether you're attempting to master the art of sit, speak or shake, or simply indulging your best friend in a gratuitous, yet healthy, snack, you will find an irresistible selection of treats in your monthly box. PawPost pride themselves on featuring the most healthy, natural treats for your precious pet – from fishy (and stinky!) treats full of kelp and Omega 3, biscuits hand baked with herbal remedy ingredients, to ethically made air dried ox liver treats made from 100% British meat. Their selection of gluten free, human-grade, and delicious snacks promise to delight your beloved pooches and pussy cats, while providing a healthy source of vitamins, minerals, essential nutrients, and/or protein.
In addition to just offering nutritional treats and food, they also sometimes send an extra dose of healthy goodness in the form of supplements. They always try to choose hassle free, hypoallergenic versions that make it easy to give your pet the good stuff that nature intended; including essential nutrients, antioxidants and enzymes.
Honouring their strict all natural policy when it comes to products that will be going into or onto your pet's body, all Pawpost hygiene and grooming products are human quality, always free from harsh chemicals, and, of course, cruelty free. These products are brimming with minerals and essential oils that help to hydrate and nourish your pets coat and skin, while stimulating blood circulation and eliminating toxins. A regular bathing and grooming routine is an essential part of maintaining your pet's overall health and wellness.
Although most of their products are selected for the enjoyment and health of your furry friend, Pawpost occasionally include something for the two-legged PawPost family members. This includes informative books, eco-friendly cotton totes, and pet themed treat sacks.
Boxes start from under £10 for a dog treats selection, with the main enchilada costing £17.95. You'll certainly get plenty of barks and purrs for that!
Overall User Rating

Rated 5 stars




5

/ 5 (

2

Reviewers

)
See PawPost alternatives & other boxes people like.
See other best subscription boxes in Pets.
---
2 Reviews of PawPost from Real Customers:
Our subscription box listings feature real customer reviews. Subscribers rate a box based on value, appearance, and other aspects, as well as providing comments and feedback about their experience with customer service. Our subscription box reviews provide a more accurate overview of boxes than from bloggers. We check all reviews are genuine. Want to leave your view? Write your review below.
Verified Review - September 2015
Great Products
By Claire Swan
Hey, Im a bit crazy when it comes to pet products and found pet subscription boxes full of cheap plastic toys and food you wouldn't normally buy. Pawpost did surprise me, as it focuses on organic and natural products, not just the food but the toys also. I was happily surprised and since continued my subscription. Thanks
Verified Review - September 2015
Dog Lover
By Sarah Meaning
I have to say, i have tried a fair few "pet" subscription boxes over the last 12 months but pawpost is in my opinion the best for value and quality in products. We ordered a 1 month box as a trail but recently signed up for a year. Lovely packaging. thumbs up from me
---
PawPost Voucher Codes & Special Offers
There are no exclusive discounts right now
But you can STILL get the best introductory deal from PawPost with our unique link.
---
---
Latest Facebook Updates from PawPost
---
Latest Tweets from PawPost
See their latest Tweets and see how quick and responsive they are at customer service and sorting issues out with customers.
Twitter has returned errors:
"Could not authenticate you. [error code: 32]"
More information on errors that have codes here.
---
Something wrong with this listing? Update this box details
WANT A FREE SUBSCRIPTION BOX?
JOIN OUR MAILING LIST & GET EXCLUSIVE OFFERS EMAILED TO YOU EVERY MONTH